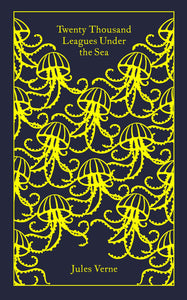 Jules Verne's timeless underwater adventure story in a stunning Hardcover Classics edition with the original illustrations
In this thrilling adventure tale by the father of science fiction, three men embark on an epic journey under the sea with the mysterious Captain Nemo aboard his submarine, the Nautilus. Over the course of their fantastical voyage, they encounter the lost city of Atlantis, the South Pole, and the corals of the Red Sea. Along the way, they must battle countless adversaries both human and monstrous. This triumphant work of the imagination shows the limitless possibilities of science and the dark depths of the human mind. 
ABOUT THE AUTHOR
Jules Verne was born in France in 1828 and died in 1905. His collaboration with the publisher Pierre-Jules Hetzel was wildly successful, producing many brilliant novels in the burgeoning genre of science fiction: 20,000 Leagues Under the Sea, Journey to the Center of the Earth, and Around the World in 80 Days, among others. Verne is the second most translated author in the world, after Agatha Christie and before Shakespeare.
Physical Info: 
138 x 204 x 45mm | 528 pages | Hardback with splendid packaging created by award-winning designer Coralie Bickford-Smith


Penguin Clothbound Classics Series
SKU: 9780241198773 Barcode: 9780241198773