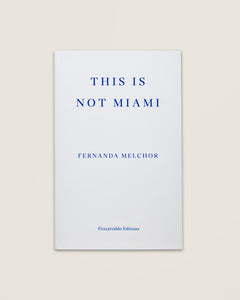 Set in and around the city of Veracruz in Mexico,
This Is Not Miami
delivers a series of devastating stories - spiralling from real events - that bleed together reportage and the author's rich and rigorous imagination. These
cronicas
- a genre unique to Latin American writing that blends reportage, narrative non-fiction and novelistic forms - probe deeply into the motivations of murderers and misfits, into their desires and circumstances, forcing us to understand them - and even empathize - despite our wish to disdain them as monsters. As in her hugely acclaimed novels
Hurricane Season
and
Paradais
, and once again brilliantly translated by Sophie Hughes, Fernanda Melchor's masterful stories show how the violent and shocking aberrations that make the headlines are only the surface ruptures of a society on the brink of chaos.
SKU: 9781804270189 Barcode: 9781804270189