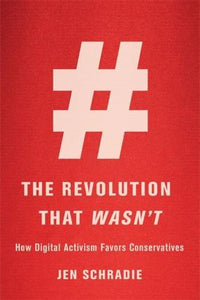 This surprising study of online political mobilization shows that money and organizational sophistication influence politics online as much as off, and casts doubt on the democratizing power of digital activism.
The internet has been hailed as a leveling force that is reshaping activism. From the Arab Spring and Occupy Wall Street to Black Lives Matter and #MeToo, digital activism seemed cheap, fast, and open to all. Now this celebratory narrative finds itself competing with an increasingly sinister story as platforms like Facebook and Twitter-once the darlings of digital democracy-are on the defensive for their role in promoting fake news. While hashtag activism captures headlines, conservative digital activism is proving more effective on the ground.
In this sharp-eyed and counterintuitive study, Jen Schradie shows how the web has become another weapon in the arsenal of the powerful. She zeroes in on workers' rights advocacy in North Carolina and finds a case study with broad implications. North Carolina's hard-right turn in the early 2010s should have alerted political analysts to the web's antidemocratic potential: amid booming online organizing, one of the country's most closely contested states elected the most conservative government in North Carolina's history.
The Revolution That Wasn't identifies the reasons behind this previously undiagnosed digital-activism gap. Large hierarchical political organizations with professional staff can amplify their digital impact, while horizontally organized volunteer groups tend to be less effective at translating online goodwill into meaningful action. Not only does technology fail to level the playing field, it tilts it further, so that only the most sophisticated and well-funded players can compete
SKU: 9780674972339 Barcode: 9780674972339