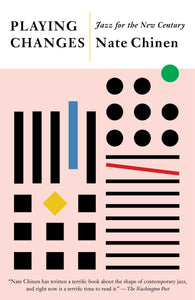 One of the Best Books of the Year: NPR, GQ, Billboard, JazzTimes
In jazz parlance, "playing changes" refers to an improviser's resourceful path through a chord progression. In this definitive guide to the jazz of our time, leading critic Nate Chinen boldly expands on that idea, taking us through the key changes, concepts, events, and people that have shaped jazz since the turn of the century from Wayne Shorter and Henry Threadgill to Kamasi Washington and Esperanza Spalding; from the phrase "America's classical music" to an explosion of new ideas and approaches; from claims of jazz's demise to the living, breathing scene that exerts influence on mass culture, hip-hop, and R&B. Grounded in authority and brimming with style, packed with essential album lists and listening recommendations, Playing Changes takes the measure of this exhilarating moment and the shimmering possibilities to come.
ABOUT THE AUTHOR
Nate Chinen has been writing about jazz for more than twenty years. He spent a dozen of them working as a critic for The New York Times and helmed a long-running column for JazzTimes. As the director of editorial content at WBGO, he works with the multiplatform program Jazz Night in America and contributes a range of coverage to NPR Music. A twelve-time winner of the Helen Dance, Robert Palmer Award for Excellence in Writing presented by the Jazz Journalists Asso­ciation, Chinen is also coauthor of Myself Among Others: A Life in Music, the autobiography of impre­sario George Wein.
Physical Info: 
132 x 204 x 18mm | Paperback
SKU: 9781101873496 Barcode: 9781101873496