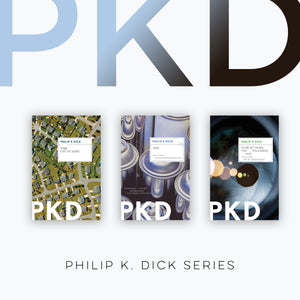 B&B Special Set : Philip K. Dick Series
TIME OUT OF JOINT
"Marvelous, terrifying fun, especially if you've ever suspected that the world is an unreal construct built solely to keep you from knowing who you really are. Which it is, of course."--Rolling Stone Ragle Gumm has a unique job: every day he wins a newspaper contest. And when he isn't consulting his charts and tables, he enjoys his life in a small town in 1959. At least, that's what he thinks. But then strange things start happening. He finds a phone book where all the numbers have been disconnected, and a magazine article about a famous starlet he's never heard of named Marilyn Monroe. Plus, everyday objects are beginning to disappear and are replaced by strips of paper with words written on them like "bowl of flowers" and "soft drink stand." When Ragle skips town to try to find the cause of these bizarre occurrences, his discovery could make him question everything he has ever known.

Physical Info: 1.8 x 20.1 x 13.2 cm (0.22 kg) 249 pages


UBIK
"From the stuff of space opera, Dick spins a deeply unsettling existential horror story, a nightmare you'll never be sure you've woken up from."--Lev Grossman, Time Glen Runciter runs a lucrative business--deploying his teams of anti-psychics to corporate clients who want privacy and security from psychic spies. But when he and his top team are ambushed by a rival, he is gravely injured and placed in "half-life," a dreamlike state of suspended animation. Soon, though, the surviving members of the team begin experiencing some strange phenomena, such as Runciter's face appearing on coins and the world seeming to move backward in time. As consumables deteriorate and technology gets ever more primitive, the group needs to find out what is causing the shifts and what a mysterious product called Ubik has to do with it all.

Physical Info: 1.8 x 20.1 x 13.2 cm (0.20 kg) 227 pages


FLOW MY TEARS, THE POLICEMAN SAID
"Dick skillfully explores the psychological ramifications of this nightmare."--The New York Times Review of Books Flow My Tears, the Policeman Said grapples with many of the themes Philip K. Dick is best known for-- identity, altered reality, drug use, and dystopia--in a rollicking chase story that earned the novel the John W. Campbell Award and nominations for the Hugo and Nebula. Jason Taverner--world-famous talk show host and man-about-town--wakes up one day to find that no one knows who he is--including the vast databases of the totalitarian government. And in a society where lack of identification is a crime, Taverner has no choice but to go on the run with a host of shady characters, including crooked cops and dealers of alien drugs. But do they know more than they are letting on? And just how can a person's identity be erased overnight?

Physical Info: 2 x 20.1 x 13.2 cm (0.20 kg) 249 pages
SKU: Barcode: 9780547572253, 9780547572581, 9780547572291