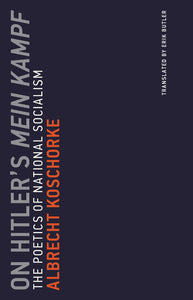 An examination of the narrative strategies employed in the most dangerous book of the twentieth century and a reflection on totalitarian literature.
Hitler's Mein Kampf was banned in Germany for almost seventy years, kept from being reprinted by the accidental copyright holder, the Bavarian Ministry of Finance. In December 2015, the first German edition of Mein Kampf since 1946 appeared, with Hitler's text surrounded by scholarly commentary apparently meant to act as a kind of cordon sanitaire. And yet the dominant critical assessment (in Germany and elsewhere) of the most dangerous book of the twentieth century is that it is boring, unoriginal, jargon-laden, badly written, embarrassingly rabid, and altogether ludicrous. (Even in the 1920s, the consensus was that the author of such a book had no future in politics.) How did the unreadable Mein Kampf manage to become so historically significant? In this book, German literary scholar Albrecht Koschorke attempts to explain the power of Hitler's book by examining its narrative strategies.
Koschorke argues that Mein Kampf cannot be reduced to an ideological message directed to all readers. By examining the text and the signals that it sends, he shows that we can discover for whom Hitler strikes his propagandistic poses and who is excluded. Koschorke parses the borrowings from the right-wing press, the autobiographical details concocted to make political points, the attack on the Social Democrats that bleeds into an anti-Semitic conspiracy theory, the contempt for science, and the conscious attempt to trigger outrage.
A close reading of National Socialism's definitive text, Koschorke concludes, can shed light on the dynamics of fanaticism. This lesson of Mein Kampf still needs to be learned.
Physical Info: 
114 x 178 x 16mm | Paperback
SKU: 9780262533331 Barcode: 9780262533331