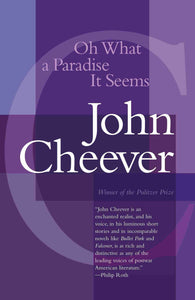 From one of the most renowned twentieth-century American writers, this "luminous epiphany of life … [is] a charming fable of old age, nostalgia, and loss"
The Washington Post Book World
Pulitzer Prize-winning author John Cheever's final novel is a fable set in a village so idyllic it has no fast-food outlet and having as its protagonist an old man, Lemuel Sears, who still has it in him to fall wildly in love with strangers of both sexes.
But Sears's paradise is threatened; the pond he loves is being fouled by unscrupulous polluters. In Cheever's accomplished hands the battle between an elderly romantic and the monstrous aspects of late twentieth century civilization becomes something ribald, poignant, and ineffably joyful.
"This is perfect Cheever, it is perfect."
The New York Times Book Review
John Cheever
was born in Quincy, Massachusetts, in 1912. He is the author of seven collections of stories and five novels. His first novel,
The Wapshot Chronicle,
won the 1958 National Book Award. In 1965 he received the Howells Medal for Fiction from the National Academy of Arts and Letters, and in 1978
The Stories of John Cheever
won the National Book Critics Circle Award and the Pulitzer Prize. Shortly before his death in 1982, he was awarded the National Medal for Literature from the Academy and Institute of Arts and Letters.
Physical Info: 
133 x 202 x 8mm | Paperback
SKU: 9780679737858 Barcode: 9780679737858