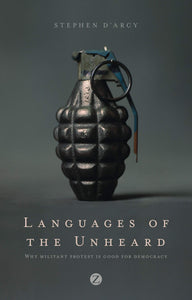 Martin Luther King once insisted that 'a riot is the language of the unheard.' Since 2011 swathes of protest, rebellion, and rioting have covered the globe. A new, disenfranchised generation is fighting for its voice as once again scores of police line the streets and pop icons demand a political revolution.
Challenging us to consider arson attacks against empty buildings, black bloc street-fighting tactics, and industrial sabotage, amongst an array of other militant action, philosopher Stephen D'Arcy asks if it is ever acceptable to use or threaten to use armed force. Drawing a clear line between justifiable and unjustifiable militancy, Languages of the Unheard shows that the crucial contrast is between democratic and undemocratic action, rather than violence and non-violence.
Both a consideration of the ethics and politics of militant protest and the story of dissidents and their actions post 1968, this book argues that militancy is not a danger to democratic norms of consensus-building. Instead, it is a legitimate remedy for elite intransigence and unresponsive systems of power that ignore, or silence, the people.
Physical Info: 
138 x 216 x 20.32mm | Paperback
SKU: 9781783601622 Barcode: 9781783601622