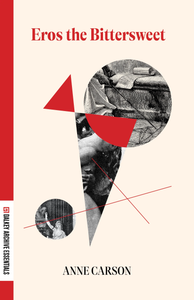 Selected by the Modern Library as one of the 100 best nonfiction books of all time
A book about romantic love, Eros the Bittersweet is Anne Carson's exploration of the concept of 'eros' in both classical philosophy and literature. Beginning with, 'It was Sappho who first called eros "bittersweet". No one who has been in love disputes her', Carson examines her subject from numerous points of view, creating a lyrical meditation in the tradition of William Carlos Williams's Spring and All and William H. Gass's On Being Blue.
Epigrammatic, witty, ironic, and endlessly entertaining, Eros is an utterly original book.
SKU: 9781628973860 Barcode: 9781628973860