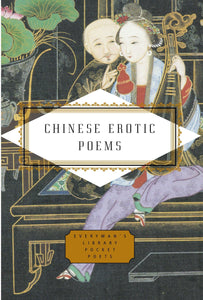 The ancient Chinese tradition of erotic poetry has been largely ignored in the west. Now, a vast continent of sensual verse is opened to us with this glorious collection spanning nearly three thousand years and including many poems never before translated into English.
Tony Barnstone and Chou Ping have brought together poems about deep love and pure lust, enticement and seduction, ecstasy and disappointment. Here are poems that express need, hunger, grief, and longing for husbands and wives and for concubines and lovers; poems by turns explicit or subtle, light-hearted or desperate, written from both men's and women's points of view. The editors have drawn on a wide range of sources from 600 BCE to the present, including highly literary poems, popular verse, and folk songs, as well as poems that appeared in ancient Daoist sex manuals, in classical novels of the Ming Dynasty, and in collections of erotic prints. The result is a dazzling array of voices that speak the universal language of desire.
For the first time, all the major works of this beloved writer are gathered together in one hardcover volume.
Physical Info: 
112 x 165 x 18mm | Hardback 
SKU: 9780307265678 Barcode: 9780307265678