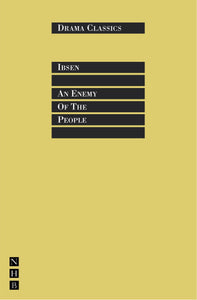 Drama Classics: The World's Great Plays at a Great Little Price
An idealistic doctor, Stockmann, discovers that the waters from which his native spa town draws its wealth are dangerously contaminated. As the citizens realise the financial implications, Stockmann comes under increasing pressure to keep silent.
Henrik Ibsen's play An Enemy of the People was published in 1882 and first performed in 1883.
This edition of An Enemy of the People in the Nick Hern Books Drama Classics series is translated and introduced by Stephen Mulrine.

Physical Info: 105 x 160 x 13mm | Paperback
SKU: 9781848421592 Barcode: 9781848421592