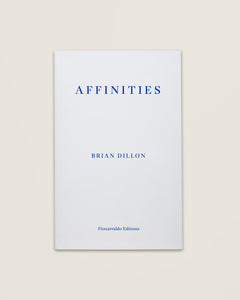 In
Affinities,
Brian Dillon explores images and artists he is drawn to or loves, and tries to analyse the attraction.
What do we mean when we claim affinity with an object or picture, or say that affinities exist (not only formal) between such things? What do feelings of affinity imply about individual or collective experience of art, and of the world? The word ffinity'used to mean an attraction of opposites, between chemical elements. In his
Effective Affinities
, Goethe used the idea to think about the orbits and collisions of love. In the poetry and essays of Baudelaire, the writings of Walter Benjamin and Aby Warburg, the art of Tacita Dean and Moyra Davey, a partly buried history of affinity can be found.
Affinities
is a critcal and personal study of a sensation that is not exactly taste, desire, or allyship, but has aspects of all. Approaching this subject via discrete examples, this book is first of all about images - mostly photographs - that have stayed with the author over many years, or grown in significance during months of pandemic isolation, when the visual field had shrunk.
Some of these are historical works by artists such as Julia Margaret Cameron, Dora Maar, Claude Cahun, Samuel Beckett and Andy Warhol. Others are more or less obscure scientific or vernacular images: sea creatures, migraine auras, astronomical illustrations derived from dreams. Also family photographs, film skills, records of atomic ruin. And contemporary art by Rink Kawauchi, Susan Hiller and John Stezaker.
Written as a series of linked essays, interwoven with a reflection on affinity itself,
Affinities
completes a trilogy, with
Essayism
and
Suppose a Sentence
, about the intimate and abstract pleasures of reading and looking.
SKU: 9781804270165 Barcode: 9781804270165