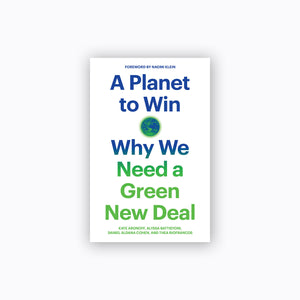 The age of climate gradualism is over, as unprecedented disasters are exacerbated by inequalities of race and class. We need profound, radical change. A Green New Deal can tackle the climate emergency and rampant inequality at the same time. Cutting carbon emissions while winning immediate gains for the many is the only way to build a movement strong enough to defeat big oil, big business, and the super-rich—starting right now.
A Planet to Win
explores the political potential and concrete first steps of a Green New Deal. It calls for dismantling the fossil fuel industry, building beautiful landscapes of renewable energy, and guaranteeing climate-friendly work, no-carbon housing, and free public transit. And it shows how a Green New Deal in the United States can strengthen climate justice movements worldwide.
We don't make politics under conditions of our own choosing, and no one would choose this crisis. But crises also present opportunities. We stand on the brink of disaster—but also at the cusp of wondrous, transformative change.


Physical Info:1.27 x 19.8 x 12.9 cm (0.18 kg) 208 pages.
SKU: 9781788738316 Barcode: 9781788738316