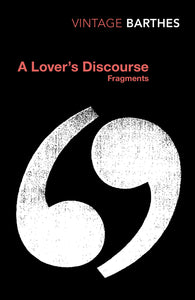 'May be the most detailed, painstaking anatomy of desire that we are ever likely to see or need again... An ecstatic celebration of love and language' Washington Post
The language we use when we are in love is not a language we speak. It is a language addressed to ourselves and to our imaginary beloved. It is a language of solitude, of mythology, of what Barthes calls an 'image repertoire'.
Reviving the notion of the amorous subject beyond psychological or clinical enterprises, Barthes' A Lover's Discourse is a book for everyone who has ever been in love, or indeed, thought themselves to be immune to its power.
Physical Info: 
129 x 198 x 16mm | Paperback
SKU: 9780099437420 Barcode: 9780099437420