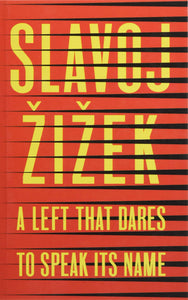 With irrepressible humor, Slavoj Žižek dissects our current political and social climate, discussing everything from Jordan Peterson and sex "unicorns" to Greta Thunberg and Chairman Mao. Taking aim at his enemies on the Left, Right, and Center, he argues that contemporary society can only be properly understood from a communist standpoint.
Why communism? The greater the triumph of global capitalism, the more its dangerous antagonisms multiply: climate collapse, the digital manipulation of our lives, the explosion in refugee numbers – all need a radical solution. That solution is a Left that dares to speak its name, to get its hands dirty in the real world of contemporary politics, not to sling its insults from the sidelines or to fight a culture war that is merely a fig leaf covering its political and economic failures. As the crises caused by contemporary capitalism accumulate at an alarming rate, the Left finds itself in crisis too, beset with competing ideologies and prone to populism, racism, and conspiracy theories. 
A Left that Dares to Speak Its Name is Žižek's attempt to elucidate the major political issues of the day from a truly radical Leftist position. The first three parts explore the global political situation and the final part focuses on contemporary Western culture, as Žižek directs his polemic to topics such as wellness, Wikileaks, and the rights of sexbots. This wide-ranging collection of essays provides the perfect insight into the ideas of one of the most influential radical thinkers of our time.
Physical Info: 145 x 215 x 23mm | Paperback
SKU: 9781509541188 Barcode: 9781509541188