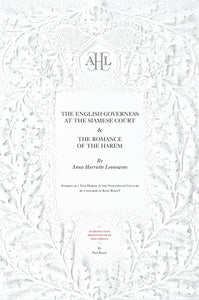 Many Thais cannot accept the fact that Anna's memoirs contain truth. They have labeled her a pretentious liar. Most of them have little to no knowledge about nineteenth-century Siam. Even in an attempt to challenge Anna's memoirs, those critics ended up confusing between what she wrote, novels based on her memoirs, musicals, and film, and their hatred towards her. They are normally used to showing flattery and adulation to ancient kings who had long deceased even before they were born; not to mention that they did not know for themselves how or what the kings actually looked like.

. . .
A collection of two books by Anna Leonowens, an important documentation of her recollections about the court of King Mongkut, King Rama IV of Siam, along with a new introduction presented with supporting documents, that will make you have to rereads Anna's memoirs once again.
This is the narrative that led to the legendary story of Anna and the King of Siam and The King and I which contains the facts that derived from the harem of the King of Siam in a way that cannot be found from any other evidence.
150 years ago, when Siam was beginning to open up to the west. A Caucasian woman went to work as a teacher of  English and modern general knowledge in the harem.  Her students were the children and wives of an Asian king, who, having lived his life in an ancient state of conservatism, had just opened his eyes to a world caught in the throes of modernization.

Physical Info: 152 x 227 x 40 mm | 666 Pages | Paperback
SKU: 9786167939148 Barcode: 9786167939148