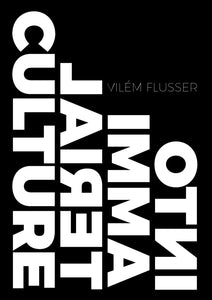 Is the alphabet about to disappear? How will we communicate without it? Are there any indications of new, emergent codes? Is human communication going through a mutation? These are only some of the provocative questions posed by Vilém Flusser in Into Immaterial Culture.
The four essays of this book were delivered as a series of lectures at the School of Communication and the Arts of the University of São Paulo in August of 1986, one year after the publication of the first Brazilian edition of Towards a Philosophy of Photography, published as A Filosofia da Caixa Preta.
Through these four short essays, Flusser presents, in a nutshell, his communications theory. Their style is condensed, with a series of quick-fire sentences, which are best read in conjunction with his major works of the same period. However, for a fist time reader of his work, these four lectures are a good introduction to some of Flusser's polemic and provocative concepts regarding human communication, its future, and its ethical, aesthetic, and epistemological implications; a vision that is paradoxically utopian and dystopian.
Physical Info: 
148 x 210 x 3mm | Paperback
SKU: 9780993327209 Barcode: 9780993327209